Is lack of storage space becoming a problem for your ever increasing collection of gardening equipment? Perhaps you need somewhere to store your garden furniture or barbecue grill during the winter months. Maybe you are currently storing everything in your garage and it's competing for space with your car.

The obvious and cheapest solution to solving your storage problem is to buy a garden shed or if you have been bitten by the DIY bug you may prefer to build your own. Building your own shed can be a challenging project if you are new to woodworking. If you are not confident that you have acquired the woodworking skills required I recommend that you try some simpler projects first such as building a garden bench.
Building your own shed and seeing it standing in your garden will be a monument to your success as a competent DIYer. If you can build a shed then you can be pretty confident that you can tackle any DIY project.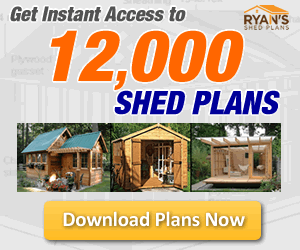 Important Considerations
Before you proceed with building a shed I should remind you about an annoying obstacle that may or may not affect you. Depending on where you live there are often laws in place about what you can and can't build without planning permission.
If you do require a building permit then you will need to contact your local planning department before you can proceed with building your shed.
The next thing you should be thinking about is what you want to store in the shed as this will determine how large the shed needs to be. If you also plan to use your shed as a workshop then the shed will need to be larger still.
When you have estimated the size that you need I would actually recommend that you construct it slightly bigger than that. This will allow additional space for stuff that you haven't yet anticipated buying in the future.
I expect you will be most likely be planning to build your shed from wood but there is nothing to stop you from using plastic or metal. However wood is recommended as it is much easier to work with. I certainly prefer the aesthetics of a wooden shed for a garden.
It is also important to decide early on where you want to build the shed. You should ensure that once you have decided on a spot that you do a thorough job of clearing it before you begin the construction.
Planning Ahead
The most important thing you need to build a shed is to a have a clear plan that's is detailed and easy to follow. There are many places on the internet where you can download free storage shed plans. However DIY shed plans usually come with a small catch. They are deliberately not detailed enough for the average DIYer to follow and you will end up having to buy the full premium version of the plan. These are always much more detailed and much easier to understand.
What About Free Shed Plans?
You only have to do a quick search on the internet with the dimensions of the shed you wish to build and you will find no shortage of free DIY shed plans. Some of the most popular are the 10×10 shed plans and the slightly larger 10×12 shed plans.
The beauty of having so many free storage shed plans available is that you can get a good idea in advance as to what is involved in building a particular shed. You can the easily make a decision about which is the best shed for you based on your requirements and skill level. You can then purchase the full shed plan. To get an example of how free shed plans compare to premium plans you can view this free premium 8X10 shed plan as an example.
When purchasing backyard shed plans it is imperative that you don't try to cut costs by trying to follow a cheap plan that will lead to you making expensive mistakes later on.
A good quality DIY shed plan will include complete step-by-step instructions that are clear and easy enough for beginners to follow. They will also include a complete list of the materials that you will need.
What Makes a Good Shed Plan?
You need to be careful when purchasing outdoor shed plans that you don't end up buying one that was written by a ghost writer who has never done any woodwork in their life. The last thing you want is to spend hundreds of dollars on materials only to find that the parts don't fit together because the plan sucks.
If they suck it's usually for the reason I just described, it wasn't written by a woodworker. What you need are plans written by somebody with experience and just as importantly is skilled at teaching that skill to other people too.
What are the Main Ingredients of the Perfect Shed Plan?
DIY shed plans must show the shed from ALL angles and show ALL the details. This will ensure that all the parts that you build all fit together.
Step by step "LEGO" instruction simplicity. If the plan is not clear and simple enough for a kid to follow then the plan is not clear enough. The plan should be jargon free and assume that you have zero experience.
Complete List of Materials and Cuttings. You need to know exactly what to buy and the exact amount of everything. The plan should also show you what order you need to buy the materials. That way you won't have piles of material lying around confusing the hell out of you as you try to work out what bits you need right now. The list should also include all the tools that you will need.
Dimensional Drawings are essential as you need to view the shed designs in 3D so that it's clear how the parts fit together. Don't settle for 1-sided plans.
CAD Designed Drawings that shows you the EXACT proportions.
"Used For" List. Your plan MUST have a list of materials that clearly shows what each item is used for. It should also show you when you need them so that you don't clutter your backyard up with parts that you don't yet need.
What is the Best Place to Get DIY Shed Plans?
I will only recommend shed plans that include all of the ingredients I mentioned in the list above. This is why I believe Ryan's Shed Plans are the best as he has a massive selection of 12,000 shed designs that are all illustrated with color photos and instructions. Ryan's plans include everything from large outhouses and garages down to small garden and storage sheds. His plans also cover all types of roofs. This includes gable, gambrel, hip, pent, saltbox, bonnet, flat and shed roofs as well as many more.

Get Your Free 8×12 Shed Plans
As a free sample of his shed plans Ryan is giving away free 8×12 shed plans which you can download here…
Building Your Own Shed
I'm going to talk you through the individual stages of building a shed so that you have a basic idea of what is involved.
Step 1 – Laying the Foundations
It is vital for the stability of your shed that you do a good job of building the foundations. This will involve excavating the ground and then laying down gravel. Please make sure that the gravel is level before proceeding any further.
Once you have your foundations built you will then need to build a frame for the floor. How to do this and the materials you need will all be documented in your shed plan.
The essential tools for this step are a spirit level and a tape measure.
Step 2 – Building a Frame for the Walls
The sides of a shed are built one layer at a time from the foundation up to the top. It is very important that you construct the back wall first followed by the front. Last of all you will build the sides.
Building the wall frame is the one of the most time consuming parts of the shed construction. If you have help available then this would be a good time for an extra pair of hands.
Step 3 – Building a Frame for the Roof
The roof of a shed is more than just a protective lid as it is stabilizes the whole shed. It helps to hold up all of the four walls. Therefore it is very important that you take your time and be very careful when you construct the frame for the sheds roof.
Be sure to follow your shed plan very carefully as you will need to cut and position the rafters correctly. Once again this a time consuming process that could benefit from an additional pair of hands.
Step 4 – Building the Gable Overhangs

After the challenging preceding steps things get a bit easier from now on. You will now to need to build the gable overhangs. Once you have the cut your gable wall plates according to your plan you will have to nail them into position. You will find this step much easier if you have an automated hammer.
Step 5 – Covering it All Up
By now you will have constructed the skeleton of your shed and it is time to add the meat to bones. This stage involves fitting the fascia, sheathing and roofing. MDF is a good choice of material for these components of the shed.
Step 6 – Finishing Touches
This next stage is purely for aesthetic appeal and involves fitting soffits and siding. In addition to improving the appearance of the shed they will also help to insulate it. You may choose to improve the ventilation of your shed by cutting vents into the soffits.
I recommend that you give some thought to the color of the soffits and siding to blend in with the sheds surroundings.
Step 7 – Adding the Door
You can make this step really easy if you like by purchasing a ready-made door. Security is an important consideration when building the door if you plan to keep anything of value in the shed. You don't want to fit a door that can be easily rammed open or has flimsy locks. Make sure that you can open and close the door without it scraping the floor.
Step 8 – Finally the Windows
The final stage is to add windows, assuming that your shed design is one with windows that is. I highly recommend that you purchase pre-hung windows that are ready to be installed. You can either buy windows that are made from glass or acrylic. Finally you can add some trim around the windows and perhaps window sills too.
Concluding Thoughts
So there you have a rough guide as to what is involved in building your own shed. Do you feel that you have the necessary woodworking skills to give it a go? If so then I would recommend the Ryan's DIY shed plans for the best possible source of quality storage shed plans.
Perhaps after reading this you are having second thoughts about building your own and would prefer to buy one instead. If that is the case then why not head over to Amazon and take a looks at some of the cheap wooden sheds that they are selling. A cheap shed would save you a lot of time and effort if you don't want to build your own.